Advantages of FUDENG trailer
FUDENG trailer Quality control:
FUDENG trailer strict control over raw materials, including steel and aluminum, and we cooperate with high-quality raw material suppliers.
Our workers and engineers have a strict training and assessment system, and they have many years of relevant experience.
Our production equipment is very advanced, including the introduction of large equipment from abroad.
For each car, we have a complete set of tests, such as pressure test, load test, water pressure test and so on.
Flatbed Trailer for sale
FUDENG flatbed trailer used for 20 feet, 40 feet container transportation, also can transport bagged bulk cargo, can add front baffle, the front baffle can be removed. Design in line with the customer's national road conditions of the car, longer service life wearing parts within three months of damage warranty.
Drop side cargo trailer
sidewall trailer: mainly transport bulk cargo, sand and stone material, container plate can be detachable transport container, is a multi-purpose model, size can be designed.
fence cargo trailer: transport bulk cargo, livestock, containers, the height of the bar and the height of the warehouse bar can be designed according to the transport of goods, for the country with bad road conditions, the design of thickening suspension spring. Multi-function transport vehicle, can transport containers and general goods, suitable for long-distance logistics transport
FUDENG fuel tanker trailer
FUDENG trailer fuel tanker transport gasoline and diesel, customizable tank volume, carbon steel tank trailer and aluminum alloy tank trailer optional. Commonly used carbon steel cans and aluminum cans, used for gasoline and diesel palm oil transportation, capacity integrated bin can be designed, aluminum  tanker trailer cans are about 4 tons lighter than carbon steel trailers cans, general weight limit is more serious countries will choose aluminum fuel tanker trailers cans, aluminum alloy material to reduce the body weight, carbon steel oil tanker trailer  frame, to ensure that the bearing capacity is stronger, more suitable for bad road conditions in Africa. The detail design of the aluminum fuel tanker trailer cans is unique, and the unloading cutting uses the unloading and loading API cutting; Welding process: fuel tank shape design pressure performance is good, machine and artificial circular welding, water pressure rising shape, roll welding once forming, warehouse plate double-sided welding, increase sealing.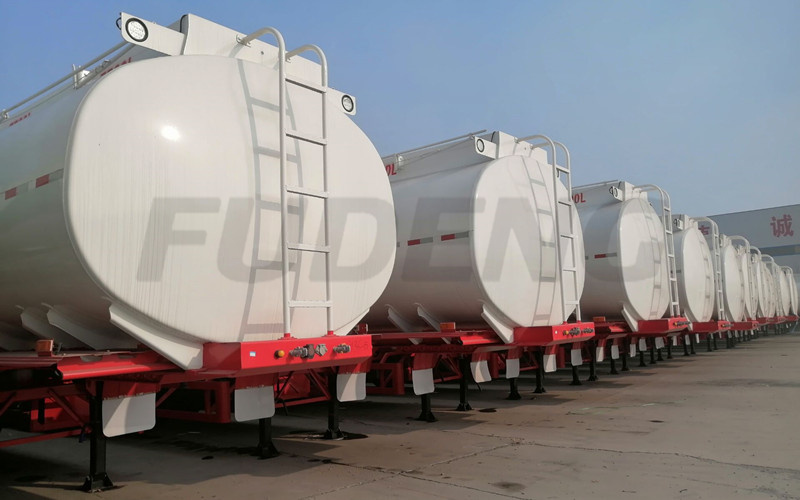 Tipper Trailer
construction materials transportation, square U-shaped bucket optional, U-shaped FUDENG trailer bucket unloading clean, transport sand stone, used for quarry or construction company, thickened box, heavy design, very durable, number can be based on the design of transport tonnage, side and bottom thickness of the trailer according to the design of transport materials.
lowbed trailers
large mechanical equipment transportation, excavators, bulldozers; FUDENG trtailer lowbed Designed to carry heavy transportable machinery and equipment, thickened girder, customizable cargo table size, also can install container lock transport containers, general standard configuration meets most customer transport requirements. Lowbed trailer surface can be designed according to the size of the equipment transported by customers. FUDENG trailer The total length of the standard configuration is 13 meters, and the length of the cargo surface is 9 meters.
Dump Truck/ Tractor Truck
Dump truck: used for mine work, transport large stones, sand and stone materials, bottom thickness can be designed, the shape of the bucket can be selected; U-shaped bucket unloading clean, suitable for the transport of sand and asphalt goods, not suitable for the transport of large stones. Square bucket can be used to transport large stones, relatively strong.
Front: traction of all kinds of FUDENG trailer, the front can add warning lights, warning effect, but also add diversion cover, reduce air resistance, according to the export requirements and customer requirements. When pulling tank semidar, need to put exhaust pipe in front, safety device.