If you're in the market for reliable and durable fuel tankers, look no further than FUDENG's range of high-quality fuel tanker trailers. Designed to meet the demanding needs of the petrol fuel oil transit industry, these tankers are available in various capacities and configurations to suit your specific requirements.
45000L Fuel Tanker Description
FUDENG fuel tankers are constructed using top-of-the-line materials such as aluminium alloy and carbon steel. This ensures the strength and longevity of the tankers, making them ideal for regions with challenging road conditions, such as Africa. With adjustable features that offer distortion resistance, earthquake resistance, and bump protection, FUDENG fuel tankers prioritize the safety of your transportation operations.
One of the standout features of FUDENG fuel tankers is their versatility. They come with multiple compartments, ranging from three to twelve, allowing you to transport and distribute different petroleum liquid products efficiently. Whether you need to transport gasoline, petrol, fuel oil, bitumen, asphalt, water, palm oil, or other similar substances, FUDENG fuel tankers have you covered.
The design and manufacturing process of FUDENG fuel tankers are based on advanced techniques, ensuring a superior product. The tank body is longitudinally welded, guaranteeing safety and longevity. Additionally, the tankers are equipped with safety devices, including explosion-proof manhole covers and emergency shut-off valves, providing peace of mind during transportation.
FUDENG takes pride in its attention to detail, evident in features such as the waved board that minimizes liquid impact on the tanker. The tankers also undergo a water-filled test to ensure a high level of sealing and prevent oil leaks. Moreover, FUDENG employs an advanced paint system with polyurethane paint, enhancing both the appearance and durability of the tankers, which can last for more than five years.
When it comes to components, FUDENG only uses renowned brands, striking a balance between cost-efficiency and long-term serviceability. Customers can choose from a variety of axle and suspension options, including L1 axle, FUWA axle, and BPW axles, tailored to their specific requirements. FUDENG offers 2-axle, 3-axle, and 4-axle configurations with mechanical or airbag suspension.
45000L Fuel Tanker Specifications
Fuel Tanker Specifications
Dimension
11700*2500*3800mm
Medium
Fuel Oil, Petroleum, Diesel, Gasoline
Volume
30000 Liters to 60000 Liters
Fluid property
Flammable and Explosive
Shape
Round or oval type
Tanker Material
Carbon steel or Aluminium
Compartments
1-12pcs
Manhole
1-12pcs
Bottom Valves
Each compartments with one
Offloading Valves
1-10pcs, API
Main Beam
Steel or Aluminium
Axles
2/3/4 Axles
Landing Gear
28Tons with two speed
Suspension
Mechanical & Air suspension
Tire
12R22.5*12Pcs
Voltage
24V
Accessories
One standard tool box, one spare tire rack, two fire extinguishers
Shipping Terms
By Bulk Cargo/RORO/Flat Rack
Advantages of Choosing FUDENG
Choosing FUDENG for your fuel tanker needs offers several advantages. With a strong track record of supplying over 1000 fuel tanker trailers to Africa, Asia, and South America, FUDENG has established itself as a trusted brand in the industry. The tankers are suitable for a wide range of petroleum products, such as liquid petroleum, gasoline, petrol, fuel oil, water, palm oil, edible oil, bitumen, and asphalt. Additionally, FUDENG's fuel tankers have received ISO9001 certification, ensuring the highest quality standards.
Fuel oil fuel tanker trailers have gained popularity in Southeast Asia, Africa, the Middle East, and South America due to their exceptional performance and reliability. With FUDENG's fuel tankers, you can expect superior craftsmanship, longevity, and efficient transportation of various liquid products.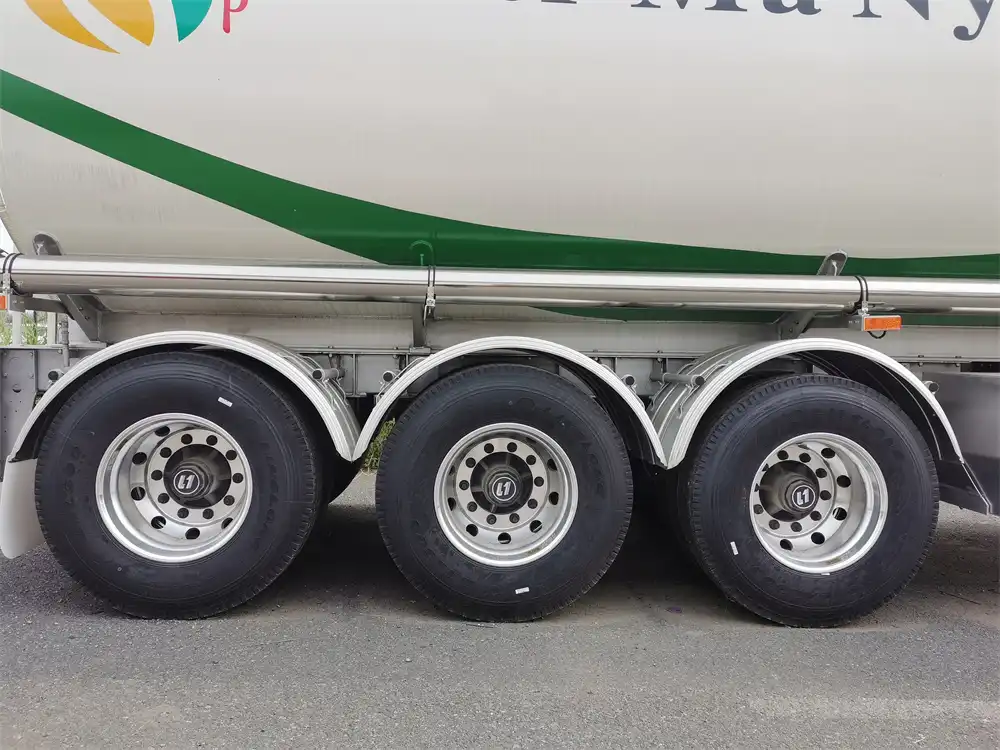 In conclusion, if you're in need of fuel tankers with a capacity of 45000L, FUDENG's range of fuel tanker trailers is an excellent choice. With their durable construction, advanced safety features, and versatile configurations, FUDENG fuel tankers offer a reliable solution for transporting petroleum products. Trust in FUDENG's expertise and join the satisfied customers in over 30 countries who have experienced the quality and performance of FUDENG fuel tankers.
For more information on tank trailers, please visit: The Complete Guide to Tank Trailers