4 Axle Flat Bed 45 Ft Trailers
Features of 4 Axle Flat Bed 45 Ft Trailersfor sale
FUDENG manufactures high quality 4 axle flatbed 45ft trailers that can carry 40ft containers, 20ft containers and bulk cargo. The 4 axle 45ft flatbed trailer can carry a load of 40 tons of machine and cargo. 4 Axle Flatbed 45ft Trailer is also known as 3 Axle Flatbed Trailer. The FUDENG 4 axle flatbed 45ft trailer is distinguished by its highly robust structural steel. We can provide flatbed semi-trailers in different configurations to meet your transportation requirements.
4 Axle Flatbed 45ft Trailer Advantages Highly strong structural steel with tensile and high load capacity, 40 ton load capacity. Heavy duty mechanical spring suspension to meet high load requirements. The length and width of the low bed is available with custom air suspension and bogie suspension is an option.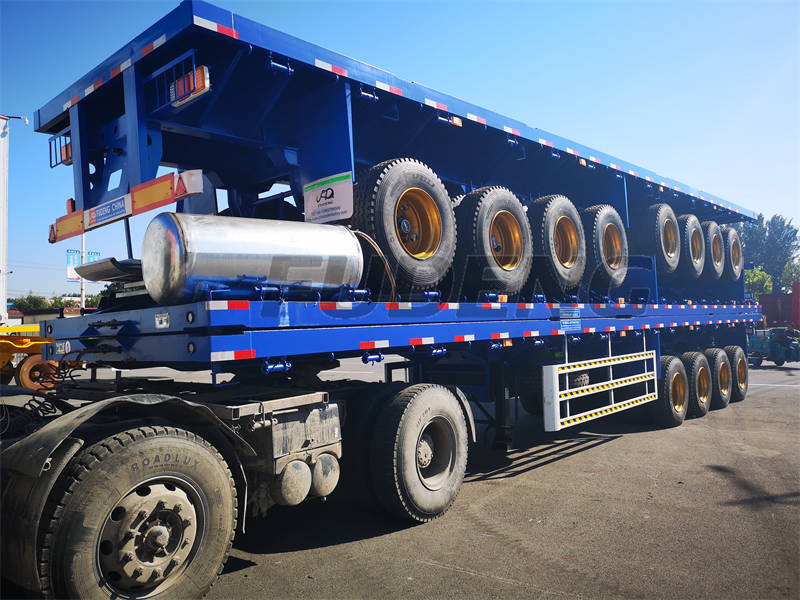 Advantages Of 4 Axle Flat Bed 45Ft Trailers
1. Simplified loading and unloading.
The 4 axle flatbed 45ft trailer is open on all sides so cargo can be loaded from all angles. At the same time, the goods on the trailer can also be packed in the most ideal way to ensure the safety during transportation.
2. Various sizes are available.
The 4 axle flatbed 45ft trailer is available in a variety of sizes and you can choose to lengthen or shorten the trailer. If your cargo is iron rods, then an extended flatbed semi trailer is perfect for this purpose. There are many types of flatbed semi-trailers. If you can't find a trailer that meets your requirements, you can also contact us to customize a flatbed semi trailer for you.
3. Transport heavy materials.
4 axle flatbed 45ft trailer with great load capacity. From tractors, military equipment, building materials to containers, flatbed trailers can tow anything.
4. No loading dock is required.
The 4 axle flatbed 45ft trailer does not require a dock when loading and unloading. This is one of the reasons why he is an ideal candidate for many industries.
What is a Flat Bed Trailer Used for?
All plants can produce 4 axle flatbed 45 foot trailers. When choosing a supplier, many customers do not understand the difference between high bed trailers.
The easiest way is to look at the weight. The heavier the flatbed trailer, the better the quality. The 4 axle flatbed 45 foot trailer purchased by African customers weighs 7.1 tons. If it weighs only 6.5 tons, the cost of this trailer can save more than $1,000.
At this time, the main beam 4 axis flat bed 45ft trailer is basically formed, and only the side beams are welded to form the frame structure.
FUDENG TRAILER adopts automatic base plate welding machine. It can automatically track the edges of soldered substrates. Just move the welding torch to the first corner of the base plate and press the "auto button", the machine will automatically track and weld all welds without any operator.
Tall welds will improve the life of the 4 axle flatbed 45ft trailer with cargo on the bottom.
As a professional manufacturer, Titan provides many kinds of 3 axle flatbed 45ft trailers to many countries, we have more advantages in 4 axle flatbed 45ft trailer cost and quality control. All 4 axle flatbed 45ft trailers will undergo rigorous testing before delivery to ensure quality. We have professional technicians to operate.