Fuel Tanker Trailer for sale in Zimbabwe
This is the fuel tanker trailer for sale in Zimbabwe.This is the fourth time our customer has purchased fuel tank semi trailers from us.
He ordered 30 aluminum fuel tanker trailers from us this time, and we designed the tank trailer according to some local configurations commonly used. In the selection of tank body material, we choose aluminum material most commonly used in Zimbabwe, and we still choose JOST landing gear which is the most popular among customers.
In the design of oil tanker trailer, the tank of our batch is six compartments with a capacity of 45,000 liters. We choose mechanical suspension for customers, we choose the bridge is FUWA bridge. This brand of bridge is very popular in the local, of course, we can also according to your needs on the bridge, legs and other brands for replacement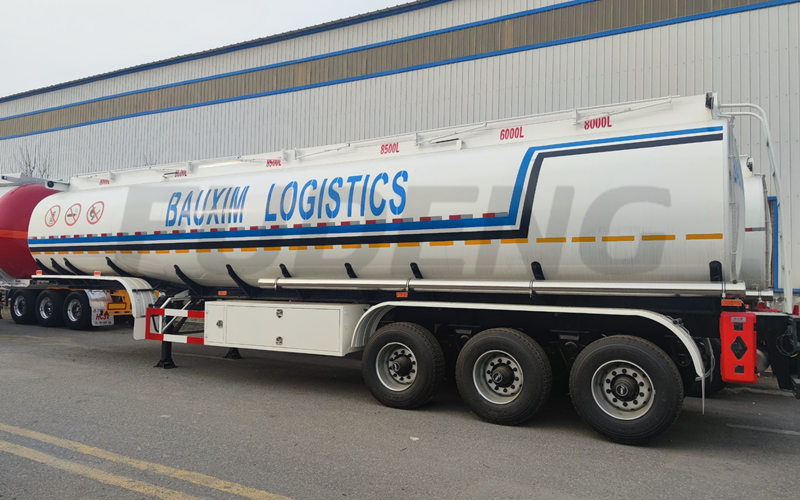 How to choose fuel tank trailer
Tank trailer Tank thickness
Tank thickness is very important. It is always recommended to use thicker fuel tanker trailer, especially when transporting large amounts of oil.
The thickness of the material used in construction is an important factor in determining the service life of the fuel tanker trailer for sale.Milk tanker trailer tank capacity – can be selected according to tank capacity. It will depend on the amount of fuel you want to ship to meet your needs. If your needs are too high, choosing an fuel tanker trailer for sale can help you reduce the number of trips you make to the required number. We sell diesel trailer capacity of 20 cubic meters, 35 cubic meters, 40 cubic meters, 60 cubic meters fuel tanker trailer.
Fuel tank shape for sale oil trailer: Fuel tank shapes vary. They include circles, ellipses and rectangles.
carbon steel and aluminum tanker trailer choice
Steel diesel trailers sold generally have a stronger structure to support weight than aluminum trailers. This is an important factor to be aware of when choosing a tanker to sell.The steel option is cheaper than an aluminum semi because of the manufacturing process involved. Steel is easier to manufacture than aluminum, especially in terms of welding possibilities.Unlike aluminum, however, steel corrodes easily.Aluminum, on the other hand, provides the best fuel capacity due to its light weight.The main challenge for aluminum semi-trailers is the cost due to the complexity of welding aluminum.However, if you are thinking about how much fuel to ship before, then this is your best bet.It will improve your cost efficiency during operations
What liquid you will be carrying
Different liquids have different requirements and therefore the materials used to make gasoline, diesel and edible palm oil trailers may vary. Different liquids have different chemical and physical characteristics which largely determine the choice of fuel tanker trailer.
Gasoline and Diesel Gasoline tank trailer intended for sale for the transportation of gasoline and diesel are generally made of carbon steel. The carbon steel half fuel tanker trailer for sale is an inexpensive construction and above all easy to machine.
Edible oil usually transported in an aluminum tank trailer because it avoids contaminating liquids. Aluminum oil trailers for sale also offer great cleaning benefits. Likewise, the half tanks used for the sale of the bodywork are fully encapsulated with an insulating material, which helps to minimize heat loss
fuel tanker trailer for sale price
includes chassis price, modification price and optional equipment price.Different chassis, different engines, different national exhaust emissions, different tank volumes and various uncertainties make up the price of gasoline tankers.Therefore, when choosing a fuel tanker trailer for sale , it is best for users to communicate with company sales staff to share fuel.The tanker needs to inform the sales staff, the sales staff will recommend the low cost tanker sales integral trailer suitable for users according to the needs of users.
Welcome to your inquiry and visit our factory!