The African custom drop side trailer is on the road
This drop side trailer is customized by us for African customers. It took 10 days for this side wall trailer to complete production, and now it has been sent to the port for shipping to our customer.This drop side trailer has three Bridges, and we choose the bridge of Jinsheng brand, which is the most suitable bridge for the customer according to the use of the semi trailer in the future.When shipping, we remove the railings on both sides of the semi trailer for customers, which can help customers save more sea freight.
The working drop side trailer is the main bearing part, composed of main beam, wide beam, beam, bottom floor, suspension and so on.Attention should be paid to whether the thickness of the main beam meets international standards. The international standard for side plate freight semi girder is 14/8/16mm. The steel plate in the middle of the beam is MADE of Q345B manganese steel with a thickness of 8mm.On the ground floor, many platform semitrailers are also used to transport bulk cargo and other items.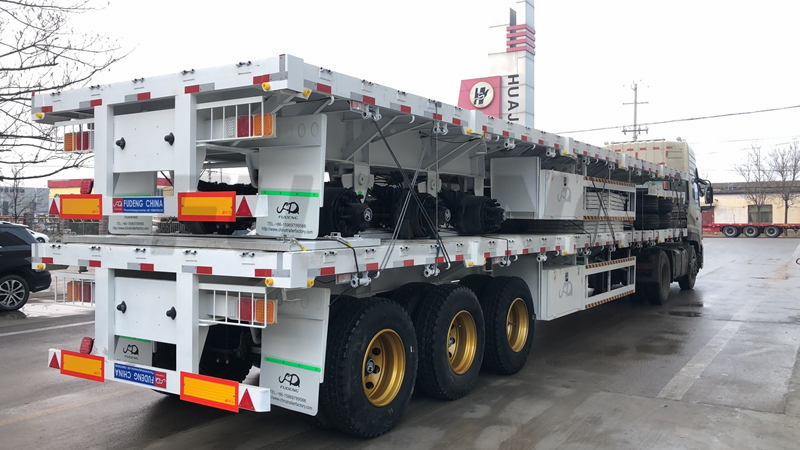 1. FUDENG drop side trailer three-axles plate adopts finite element analysis, modular design, laser cutting machine, robot welding and other advanced intelligent manufacturing equipment, from the design source to product processing and manufacturing, the whole process is strict requirements, to ensure that each side wall trailer can be delivered to customers. They are all quality products.
2. Imported brake pad, implant wear alarm device. Effectively ensure the braking performance of the trailer with plate when it is running on three axles drop side trailer.
3. Brake disc containing alloy elements, crack resistance, wear resistance, high temperature resistance. Super long warranty 200,000km, maintenance-free, braking life of 10 years and 1.5 million km.
4. High precision load bearing, long life, low temperature. Guide arm can choose double spring and single spring. Optimized single blade guide arm structure, lightweight design, three Bridges reduce the weight of more than 200 kg, with good guidance and super reliability and stability.
5. Guide arm bushing adopts internal and external steel structure, middle vulcanized rubber design structure, with stronger load resistance and more stable trailer with plate triaxial.
6. Reduce tire wear and fuel consumption. Fuel consumption can be reduced by more than 1.2 litres per 100km for the same road conditions and load capacity.
7. The support adopts high strength material upper end closed design structure, which can meet the direct connection of lower wing plate of container or cargo side wall semi-trailer. Trailer board suspension three axle adopts international famous brand, long service life, more reliable durability.
if you interest our drop side trailer,welcome to your inquiry!