Type of semi trailer
There are many different types of semi trailers;  many ways to classify,  by use,  by length, by axis number;  by material and so on.
According to the type, there are skeleton chassis semi trailer, flatbed semi trailer , lowbed semi trailer , bulk cemengt tank semi trailer , fuel tanker semi trailer and so on.
In terms of length, there are 20 feet, 40 feet, 9 meters, 12 meters, 18 meters, and so on;
Depending on the number of axles, there are uniaxial,triaxial, even ten-axis, and so on;
According to the material, there are carbon steel, stainless steel, aluminum alloy; And so on;.
1. LowBed Trailer For Sale
Low Bed semi trailer is also very wide. suitable for a variety of mechanical equipment, large objects, road construction equipment, large tank, power station equipment machine all kinds of steel transport.
1. series of low flat semi trailer with flat, concave beam and tire exposed structure, longitudinal beam using straight or gooseneck type. Its frame is step type, the longitudinal beam section is I-shaped, with high stiffness, high strength characteristics.
Frame loading
2.  the main plane of the frame and cargo platform is low, which ensures the smoothness oftransportation,suitable for carrying all kinds of construction machinery, large equipment and steel.
Three axls balance
3. the use of three-axles balance type, two-axles balance type or rigid suspension, in front and rear leaf springs between the mass balance block, can make the deflection of the front and rear leaf springs equal changes, so that the front and rear shaft force balance;
4. low flatbed semi trailer series products are suitable for a variety of mechanical equipment, large objects, road construction equipment, large tank, power station equipment and all kinds of steel transport, wide use, efficient and fast. The load-bearing surface of the frame is designed according to the user's requirements,to meet the transportation of various special goods.
2. Container Chassis Trailer For Sale
Container chassis semi trailer can transport containers. The subjective structure of flatbed semi trailer  is straight beam or gosling neck style. Mainly used for ship, port, air route, highway, transfer station, bridge, tunnel, multimodal transport supporting logistics system.
1. specially used for transportation of all kinds of containers. Can be used repeatedly for a long time, with sufficient strength.
2. If the goods are transshipped in containers, they can be loaded directly in the consignor's warehouse and unloaded at the consignee's warehouse. 
3. can be loaded and unloaded quickly, and can be directly and conveniently reloaded from one means of transport to another means of transport.
4. easy to fill and unload the goods, to meet the personalized needs of customers. According to customer needs to ensure tooling, stable quality, reliable performance.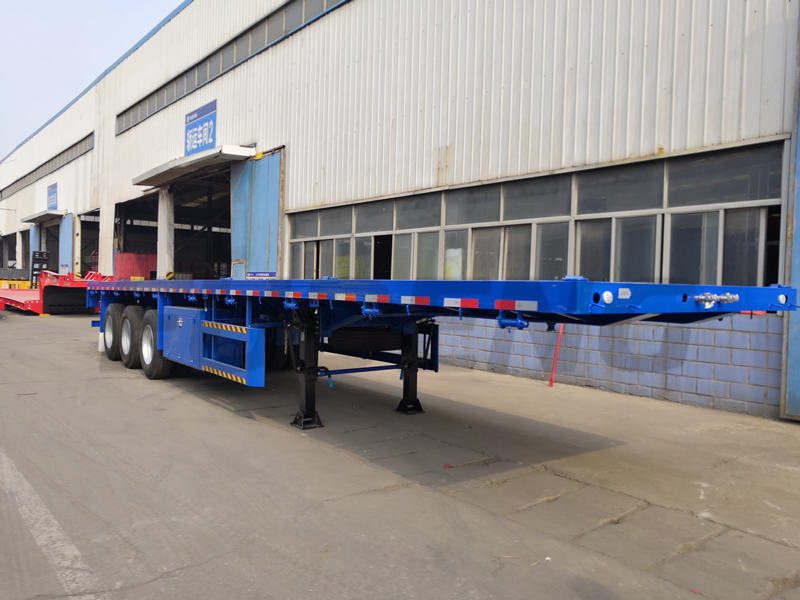 3. Fence Cargo Semi Trailer For Sale
Fence cargo semi trailer loading part of the semi trailer fence structure design. Mainly used for the transportation of agricultural and sideline products and other light foam goods.It can also be used to transport livestock.
1. model and fence structure design process combined with the user's goods category, reasonable design, meet the load of the situation to fully reduce the weight of the carriage, simple structure, convenient disassembly, reduce investment costs for users, create more profit value.
2. Frame: the space frame structure is welded by the longitudinal beam and the overall through-beam. It can balance the strength, stiffness and toughness of the frame, with strong bearing capacity and no permanent deformation.
4. Fuel Tanker Semi Trailer For Sale
fuel tanker trailer is a tank truck connected with the tow part by traction head. Compared with ordinary single type tank truck, semitrailer tank truck can effectively improve the transportation efficiency. In the case of the same tonnage, reduce transportation cost and save fuel consumption.
1. the oil tank trailer is made of 4mm or 6mm high quality carbon steel produced according to national standards. The shape is divided into oval or square shape tank, which can be loaded with 1-4 kinds of oil products. Also can produce heat preservation series tank.
2. alcohol, chemical tank trailer made of imported stainless steel from South Korea, the thickness of 5mm-6mm.
3. all kinds of hydrochloric acid, sulfuric acid, lye tank car made of plastic, thickness of 12mm-22mm.
4. the tank body is equipped with multiple anti-wave dividers. The use of high pressure gas leakage detection, so that the tank has high strength, stable center of gravity, safe and stable vehicle transport characteristics.
5.  according to the use of tank car can choose centrifugal pump, gear pump, stainless steel pump, with large flow, suction speed and other characteristics.
6. fuel tanker trailer metering can choose single count, double count flow meter, can also be assembled tax control computer refueling machine, 10-15 meters automatic retractable coil, with refueling gun. Edible oil can choose edible oil computer meter to measure.
if you have any questions ,welcome to your inquriy!